Injured in a boating accident? Trust your healing to Impact Medical.
Impact Medical is your ultimate healing partner when you've been injured in a boating accident in Florida. Boating is meant to be something fun and exciting. Whether you're out waterskiing or relaxing on your pontoon boat, the fact of the matter is boating accidents happen. At high speeds, being thrown from your boat and landing on water is the same as landing on concrete or road.
We understand how destructive a boating accident can be on your body and how disruptive your recovery is in your life. Boating collisions and accidents can cause an entirely different set of injuries due to your impact with the water at such high speeds.
Our expert and experienced medical professionals have built a specialized boating injury treatment program that targets the most common personal injuries that happen during these harrowing events in your life. There is no kind of protection provided when you're involved in a boat accident. It tends to be between you and the water or the other boat.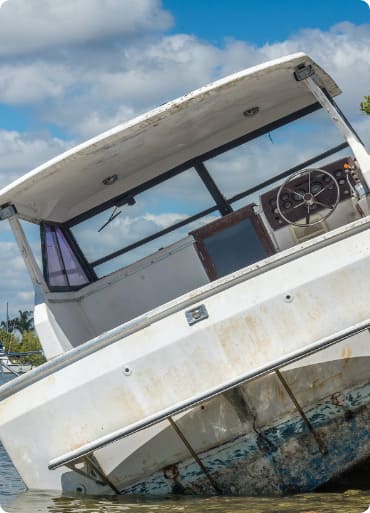 Impact Medical is here to provide you with the compassionate care and treatment you deserve using state-of-the-art technology and equipment to deliver unparalleled treatment. We understand that your risk of injury is significantly increased on the water and work closely with you to optimize your recovery to start living your life again.
Whether you're experiencing back and neck pain, arm and leg pain, or suffering from headaches, our knowledgeable and compassionate team is here to help. We work closely with you to create a personalized treatment plan designed to get you moving again and make an impact on your recovery.
We believe every patient deserves the highest level of care possible when diagnosing and treating boat accident injuries. All of our state-of-the-art clinics are multi-disciplinary to ensure that we can revolutionize your treatment while optimizing your recovery. We have chiropractors, medical providers, and physical therapists in the same clinic to provide you with the highest level of care possible.
After you're involved in a boating accident in Florida, call the specialists at Impact Medical, and we'll help you understand your injuries and create a customized care plan to fit your needs. We have the experience your life needs to live the pain-free life you deserve.
Common boating accident injuries you should seek treatment on right away!
Many types of injuries can occur in a boat accident, and whether you feel you've been injured or not, be sure that you come to see the specialists at Impact Medical right away.
We have the knowledge and experience to diagnose any unforeseen issues and injuries that can occur in the course of a boat accident. Including these common types of Florida boating accident injuries:
Whiplash
Whiplash is a violent force that can have a devastating impact on your neck, head, and spine. From your nerve roots down to your discs and ligaments, whiplash that goes untreated by professionals at Impact Medical can create chronic pain that's difficult to recover from.
Pinched Nerves
A pinched nerve applies when excessive pressure is applied to a nerve resulting in pain, numbness and/or tingling. The trauma of a boating accident can lead to a pinched nerve anywhere in your body, but the most common place for one to occur is in your spine. Treatments for pinched nerves include a spinal adjustment to force relaxation of the nerve endings as well as passive and active physical therapy treatments to reduce the pain caused by a pinched nerve.
Herniated Discs
The other spinal injury that often results from a boating accident is a herniated disc. When one of the discs in the spine is damaged it can pinch the nerves within the spine and even cause the jelly-like fluid of the spine to leak. This can lead to pain, numbness and weakness. The pain and symptoms caused by these injuries can be addressed by our medical team using spinal manipulation, flexion-distraction and other therapeutic exercises. In the most severe cases, and only when other methods are unsuccessful a surgical procedure may be required to provide true comfort and relief.
Neck & Back Injuries
Neck and back injuries are some of the most common types of boating injuries we work with because of how vulnerable your body is during the collision. If you've suffered a spinal misalignment or even a fracture to the vertebrae in your neck or back from side-impact, call our dedicated staff today before you injure yourself further.
Why Choose Impact Medical?
Unrivaled level of care.
Recovering from a boat accident injury can be stressful and draining on both your mind and body. At Impact Medical, we pride ourselves on providing you with the best possible treatment available to ensure you have the peace of mind you deserve. Living your life free of pain is our goal, and our passionate staff ensures you get the personalized care plan backed by cutting-edge treatment services you deserve every step of the way.
Specialized services you can count on.
Our medical team specializes in ensuring you get the right treatments from the moment you step foot in our doors, with a full line of specialized services and treatment options that work to treat the human, not the problem, through non-invasive treatments designed to promote natural healing. Together, we can get you moving pain-free again.
Unsurpassed knowledge and experience.
We hire the most highly qualified and experienced staff in all of our clinics. From chiropractors and medical providers to physical therapists and administration staff, when you work with Impact Medical for your boat accident injuries, we don't just make an impact on your healing. We make an impact on your life.
For over 25 years, our medical and rehabilitation staff has been helping people like you take back their lives from the overwhelming and excruciating chronic pain caused by boating accidents. It's time you had the compassionate and patient-centered care for boat accident injuries, including:
Limited range of motion or flexibility

Quality of life issues for individuals with arthritis

Fractures

Herniated discs
Spinal misalignment

Soft tissue damage

And more
The Impact Medical difference for Florida boating accident victims.
At Impact Medical, we provide innovative and specialized non-invasive treatment for all types of injuries that arise from boat accidents. Our team of medical professionals strives to minimize the need for dangerous and addictive medication in your treatment plan. Instead, we create a truly personalized care plan that utilizes state-of-the-art, patient-centered, and natural healing where possible. From spinal manipulation to realign the spinal cord, physical therapy as a rehabilitative measure, or, if needed, surgery, our caring and experienced medical staff are here to help you discover the pain relief you deserve.
Our unique care approach builds in chiropractic treatments designed to lessen inflammation to areas of your body that were stretched or turn in your boat accident. Including:
At Impact Medical, we create an all-in-one solution to your rehabilitation by integrating your treatments to address all areas of your pain. We incorporate physical therapy into your treatment plan to help:
Improve reduced range of motion and prevent additional loss in range of motion.

Improve the strength of the injured area and its supporting muscle groups.
Your personalized care plan is done under the supervision and experienced direction of our medical staff and medical director to ensure you have an advocate for effective care the delivers on our pain-free promise. Together, we work to make an impact on your lifestyle and mobility level with every part of our treatment programs.
Call us to schedule your appointment today.