Comprehensive personal injury services designed to make an impact on your recovery.
No matter if you've been in a motorcycle accident, car accident, or slipped and fell at work, injuries can leave you in pain and unable to live a happy and healthy life. At Impact Medical, we provide specialized personal injury services designed to get you living your best life again.
Our staff provides compassionate treatment for all types of injuries using state-of-the-art technology and equipment to deliver unparalleled treatment. We work closely with you to optimize your recovery so you can thrive. At Impact Medical, every one of our state-of-the-art clinics are multi-disciplinary to ensure that we can simplify and optimize your treatment. We have chiropractors, medical providers, and physical therapists all in the same clinic providing you with the highest level of treatment possible. Take control of your recovery and return to your life with our personal injury services.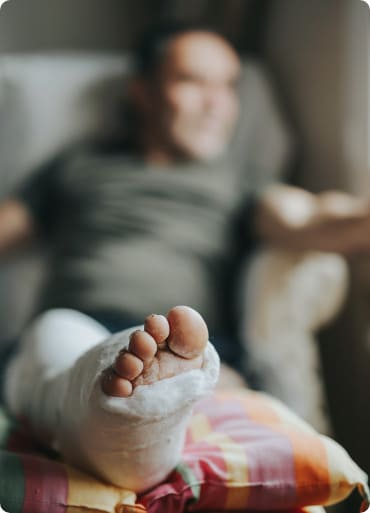 Personal Injury Services

Auto Accident
If you've been injured in an auto accident, it can leave you unable to work, or take care of your family. With the compassionate and comprehensive treatment services at Impact Medical, we help you get moving again.

Truck Accident
Truck accidents can be frightening and stressful. When you're injured in a truck accident, you need a medical care provider that understands how to deliver the results you deserve. Our truck accident personal injury services provide you with the specialized and targeted medical care you need to thrive.

Motorcycle Injury
No matter the extent of your injuries, a motorcycle accident can be a violent experience that leaves your body damaged. We provide state-of-the-art, full-service motorcycle injury services built to identify the source of your pain and provide exceptional treatment that delivers results.

Boat Injury
There is no messing around with watersports injuries. From neck and back pain to muscles and joints, a boating injury can go undetected for a long time without specialized care and diagnosis. If you think you may have been injured on the water, our team of doctors, chiropractors and therapists are here to help.

Slip and Fall Injury
Your work can be a dangerous place and slip and fall accidents happen all the time. It doesn't matter whether the extent of your personal injury on the job is severe or not. At Impact Medical we have the knowledge and experience to help identify the source of your pain. We provide comprehensive and cutting-edge treatment that is designed to have you living a full and pain-free life.
Impact Medical has the revolutionary treatment services you need to get back to living your life again free from pain. Our compassionate chiropractic and physical therapy medical professionals work closely with you to create a personalized care plan and improve your quality of life.
Call us to schedule your appointment today.